Lucie Prunier
Preloaded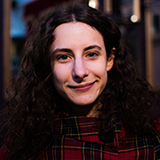 With 6 years of experience in the games industry behind her, Lucie started in Japan as a Localisation Manager and French Translator, before working as an Assistant Manager. She then moved to London 4 years ago to become a Producer, and she is currently working at Preloaded. She has worked with teams ranging from 1 to 10 developers, on PC, mobile, AR, VR and web games for a variety of clients, from individuals to museums and major corporations, often balancing all at the same time.
Lucie Prunier is speaking at the following session/s
Practical Production Tips for Studios Without a Producer
Wednesday 10th July:
15.00 - 15.45
:
Room 2
Indie and micro studio leads often need to wear many hats in development, but also handle all the organisation and problem-solving side of the business themselves. This talk is intended for those who juggle multiple projects, who struggle to pause and catch their breath for their business: it features actionable tips to help them smooth their process, alleviate the pains of production and avoid meltdowns of budgets, quality… or developers!
Time management: how to feel more in control both in your day-to-day and in the long term on a game project
People management: how to help your team be productive, and manage your client's expectations
Problem-solving methods: tips on what to do when a fire breaks in production, and how to mitigate future risks