Loukia Kyriakidou
Freelance Artist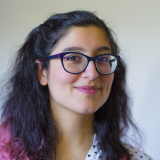 Managing a successful freelance career, Lucy's art has helped bring more than 20 games to life. With over 8 years' experience in the games industry, she is an advocate for its improvement through her work as a Women in Games and STEM ambassador.
Loukia Kyriakidou is speaking at the following session/s
Body Positivity in Character Design
Thursday 11th July:
11.15 - 12.00
:
Room 4
With games reaching an increasingly wide and diverse audience, it is important to represent all groups of people in the characters that inhabit them. This talk will explore common themes found in character design and the reasons certain stereotypes continue to dominate the world of games. Using her own journey of recognising patterns in her work, Lucy will explain how we project our own ideals into the characters we create and offer ways to overcome this and expand our reference pool.
Recognising emerging patterns in character design
Why we need to change how we create characters
Breaking away from the "default"