Kexin Li
Bossa Studios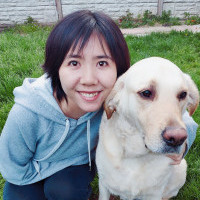 Kexin Li is a full stack developer from Bossa Studios currently working on an unannounced project. Previously, she was on the World's first Community-Crafted MMO, Worlds Adrift.
She has been in the game industry for 9 years. Started as a numeric/scripting designer on a free-to-play MMORPG project in China. Eventually, she found herself loving programming more than designing, so she went back to uni and achieved a distinction in Game Engineering.
After graduating, she joined Nosebleed Interactive as a Unity developer, and was promoted to technical lead on the second project they've made. She was responsible for a twin-stick shooter, cookie clicker like game that published to multiple platforms including PSVita, PS4, XBOXOne, Switch and mobile.
Kexin Li is speaking at the following session/s
What Made Me a Rule Breaker: Worlds Adrift
Wednesday 10th July:
12.00 - 12.45
:
Room 5
Worlds Adrift is a real-time physics based MMO sandbox game, in which players explore the floating islands with their crafted skyships. The skyships are fully customizable from deck, to frame, and to weapons. Additionally, the player will need to gain the knowledge to unlock blueprints and gather resources from different parts of the world.
It's also the first community-crafted game, which means... we are dealing with player reported issues/suggestions all the time! Have you wondered what the CS team is doing when they receive a player report? Or why there's always a scheduled maintenance and what it's doing? Do you want to know what tasks the developers are prioritizing? Are you curious about why I have to be a rule breaker? This talk will show you the mystery behind it.
This talk will cover the client-server setup of the game as well as the team structure, how we work and what kind of challenges we face every day. I'll also go through my daily tasks to explain why I have to break certain rules in certain cases.
How rest services, real-time server and client are formed together in a massively multiplayer game.
Find out the daily life of a MMO developer/devops.
What rules can we ignore in order to be productive (or pretend to be.)
Tips on how to work on parallel tasks at the same time.