Kareem Ettouney
Media Molecule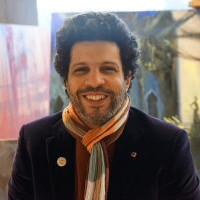 Kareem Ettouney is the Art Director and a Co-Founder of Media Molecule, the band of creative minds behind the hugely successful and innovative LittleBigPlanet game franchise. The studio's upcoming PS4 title, Dreams, lets players create games, art, music, animation – anything – from their own living room in one accessible package. With his background in film, theatre production and costume design as well as fine art & oil painting, Ettouney's style blends traditional with technology and has brought Dream's uniquely impressionistic art tools to life.
Kareem Ettouney is speaking at the following session/s
The Timelessness of Dreams: Giving Digital Art the Human Touch
Wednesday 10th July:
16.00 - 16.45
:
Room 4
How does a classically trained artist find self-expression with digital tools? How do you capture the subtleties that give art a human touch…in a game engine? Kareem Ettouney, Art Director for Media Molecule, explores how timeless mediums (paint, instruments, clay) inform the creation of Dreams' innovative toolset and how the team at Media Molecule creates a platform to support artists of every style.
Creating Dreams with Media Molecule
Wednesday 10th July:
9.45 - 10.45
:
Room 2
Media Molecule is known for innovation and originality in all their titles - as well as giving community the tools to become creators themselves. Dreams, the latest release from Media Molecule, takes UGC to the next level, giving community accessible game development tools and a platform to share and collaborate with a global community. This fireside chat with the Mm directors will discuss the challenges of creating a tool that works both for a professional development studio and a newcomer to digital creation - and what happens when you open up the doors of creativity to everyone.
Interview by Will Freeman.