Jordan Erica Webber
Games Journalist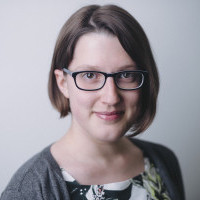 Jordan Erica Webber writes about video games for the Guardian, and talks about them on The Gadget Show (Channel 5) and RATED (Forces TV). She's also the host of the Guardian's digital culture podcast Chips With Everything, and co-author of Ten Things Video Games Can Teach Us (about life, philosophy and everything).
Jordan Erica Webber is speaking at the following session/s
Five Stars – The Best Video Games of 2018 (so far)
Tuesday 10th July:
17.00 - 17.45
:
Room 2
2017 was a bad year for the world but a great year for video games. So how does 2018 compare, so far? How does what we've been playing from Jan to June reflect the current state of the video games industry? And is it just us, or have there been even more reboots/remakes/remasters than usual these past few months?
Join Jordan Erica Webber for an incredibly subjective take on what she considers the best five games of 2018 so far, and how she thinks (or hopes) they reflect the direction in which video games are headed. Place your bets now, so you can enjoy the smug satisfaction of having already guessed half the games on her list, or the pleasant surprise of learning about something new.
Keynote: Industry Vanguard Jade Raymond Talks About Her Past and A Galaxy Far, Far Away
Wednesday 11th July:
9.45 - 10.45
:
Room 2
This year's Develop Vanguard Award winner Jade Raymond's first job out of university was as a programmer for Sony, where she was part of Sony Online's first Research and Development group. From programmer to running her own studio, Jade's spent her career working on game changing and innovating franchises like Assassin's Creed, Watch Dogs and Tom Clancy's Splinter Cell: Blacklist.
In 2015 Jade made the brave move to form Motive Studios with Electronic Arts, where she's currently developing original new IP. She also oversees PopCap Vancouver and is responsible for the HD Star Wars portfolio across EA.
A trailblazer and innovator, during this fireside chat Jade will discuss her journey so far as a dev, her views on the future for her and the industry.