John Broomhall
Composer & Game Audio Consultant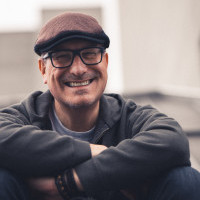 John is the co-founder and host of Game Music Connect, half of EDM music artist STRING THEORY (Modularity) and the composer for such iconic games as Transport Tycoon and X-COM/UFO: Enemy Unknown. A multi-faceted independent creative with many years' experience in music and videogames, he previously held a number of senior in-house and outsourced management roles (including European Head Of Audio and Game Development Manager), and has dozens of published titles to his credit as composer/producer, audio director/consultant, sound designer and voice director. He's written dozens of articles about game music and sound, and chaired numerous awards juries for Bafta. He curates and hosts the Develop Conference Audio Day in Brighton and has been a keynote speaker for AES. He received a Recognition Award from the Game Audio Network Guild of America and has spoken at London's School Of Sound, Bilbao's BIME PRO, The Sound of Story @Rewire and the Lithuanian Academy Of Music & Theatre. Current music writing projects include Phoenix Point, renewing his collaboration with original Xcom auteur Julian Gollop. Beyond games, he spends as much time as possible playing jazz keyboards.
John Broomhall is speaking at the following session/s
Open Mic 2019
Thursday 11th July:
17.45 - 18.30
:
Room 6
In keeping with Develop Conference tradition, John Broomhall is joined by a panel of esteemed colleagues and friends for an inclusive town hall style discussion with conference delegates about the current state-of-the-art of music, sound and dialogue for games and what the future holds for game audio business, technology and creativity.