James Parker
Ground Shatter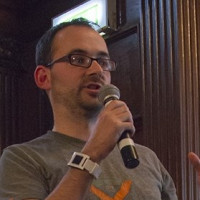 In 2018 James Parker delivered a Develop Conference session full of such searing insight and devastating depth, that it was deemed too epoch-defining to ever see the light of day, hidden behind a vast network of conspirators and outlandish claims of "technical difficulties".
Unbowed, he returns in 2019 to the very institution that sought to silence him, to once again reveal the sort of uncomfortable truths that the so-called elites of the British games industry would rather you forget.
When not writing overblown conference biographies, James runs Bristol-based Ground Shatter and makes stupid action games.
James Parker is speaking at the following session/s
RICO vs Dead End Job: Postmortem Battle
Thursday 11th July:
11.15 - 12.00
:
Room 5
Two indie games. Two Developers. Two stories of success and/or failure. In this unique session, developers James Parker and Anthony Gowland will go head-to-head to discuss development of their games, "RICO" and "Dead End Job" respectively. They cover the ups and downs, the similarities and the differences, and whether they remain friends or are now mortal enemies as their titles are both released in the complicated market conditions of 2019. With similar releases, budgets, and platforms, but different genres and styles - this is a rare opportunity to compare both real-world data and personal outlooks, see what factors have contributed to the games' relatives commercial outlooks, and draw meaningful conclusions about releasing a mid-budget indie game in the current climate. After all, what's better than one piece of anecdotal evidence? TWO pieces of anecdotal evidence, that's what!
A dive into the development of the big second titles of two established independent developers
Analysis of the varied approaches of seeking and finding and working with publishers
Up to the minute discussion of sales data on various platforms