Jack Gilson
Rovio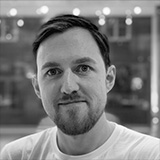 Jack started working in games when he was 15 working on a mod for Unreal which turned out to be very successful and was bought out by Epic. Twenty years later and he has worked in triple a, indie and now spends his time working in mobile f2p games as Studio Art Director at Rovio Sweden, the birthplace of the hugely successful Angry Birds 2. He spends his spare time taking photography and working on music.
Jack Gilson is speaking at the following session/s
Secret Recipes for Great Art: Diversity, Familiarity and Trends
Tuesday 9th July:
14.00 - 14.45
:
Room 6
Jack will focus on the methods he uses to understand the audience in order to build the best possible art style for F2P product. Jack will cover what he believes are the three foundation areas that he found crucial during the production cycle of a game and those are;
-Team diversity, and why building a diverse art team is just as important as great design.
-Familiarity, how to build an art style that is appealing yet fresh using familiarity by understanding your target audience.
-Trends, trends are important to assist in crafting something popular and potentially helping grow a product organically.
Jack will explain why believes that been aligned on these core principals are perfect for a healthy and successful art style that can assist with a launch that can lead to a broader audience, cheaper user acquisition and can be turned into a brand.