Ian Masters
Plant Pot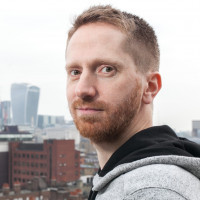 Ian Masters has founded 3 games companies, including Plant Pot where he is currently attempting to reimagine the classic card game Solitaire! He began his career 21 years ago coding PlayStation racing games and FIFA, but in 2003 he fell in love with "mobile" creating the BAFTA nominated puzzle game "Super Yum Yum". That provided the chance to work with Sega on Sonic Hedgehog, Sony on LocoRoco and Namco on The X-Factor. Experienced in teaching at universities, Ian is now working with the next generation of game developers (ages 8+) with four of his students making the finals of the BAFTA Young Game Designer competition 2018.
Ian Masters is speaking at the following session/s
LGBTQ + Roundtable
Tuesday 9th July:
17.00 - 17.45
:
Room 6
A gentle discussion led by Ian Masters (Plant Pot) and Mata Haggis-Burridge (Breda University of Applied Sciences/Copper Stone Sea) about sexuality and gender issues in the content, creation, and culture of video games. This will be a chance to discuss in a welcoming group topics such as coming out and staying out (or not) in studios and at industry events, issues with online communication, our feelings about LGBTQ content in games, being LGBTQ in games education (for students and teachers), actions we could take to improve conditions for minority sexuality and identity groups, and more. Join us to share your stories of woes and triumphs in our amazing industry!