Hannah Flynn
Failbetter Games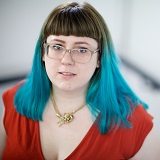 Hannah Flynn is Communications Director at Failbetter Games, where she has worked on Fallen London, Sunless Sea and Sunless Skies. In previous lives she worked for Penguin Random House, TATE and the NSPCC.
Hannah Flynn is speaking at the following session/s
Everything We Did to Chart on Steam
Tuesday 9th July:
14.00 - 14.45
:
Room 4
What does a successful marketing campaign look like for a niche indie game in 2019? Hannah Flynn will break down everything she and the Failbetter Games team did to launch Sunless Skies, with the pros, cons and outcomes for each. Including: - Strategy - how to make a launch splash when leaving Early Access - Community and social media - Streamer outreach - Content partnerships - Multiple trailers - Media outreach and press event - Consumer events - Advertising - Store placements - Merchandising
You'll have a sense of what's really required to make a game launch a success, and hopefully take away two or three concrete ideas for launching your next title based on what we learned.