Guillaume Muller
Rare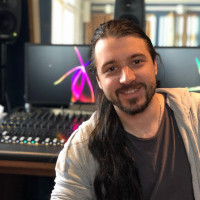 Guillaume Muller has been doing sound design for games for over seven years. He has worked on six titles to date for mostly new and creative IP's.
Starting off in indie companies abroad and later mobile gaming, he joined Rare in 2015 to work on Rare Replay then branched out on Sea Of Thieves, on which he's been working on for the last three and a half years.
Guillaume Muller is speaking at the following session/s
Code Ahoy – Finding Hidden Treasure In Creating Your Own Audio Systems
Thursday 11th July:
16.00 - 16.45
:
Room 6
Sea Of Thieves' Audio Director, Jon Vincent, discusses the value of sound designers taking much more tech control and going deeper into creating complex replay systems for themselves, citing examples of his own audio team's voyages into scripting and logic control, as well as his personal code learning experiences. Katie Tarrant will join him to show some of the practical outcomes arising from these initiatives, demonstrating some key audio systems from their latest piratical project which show just what hidden treasure awaits the technically adventurous sound designer.