Greg Buchanan
Buchanan Productions Ltd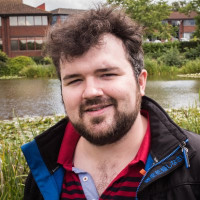 Greg Buchanan was born in England in 1989. After completing his BA in English Literature at Pembroke College, University of Cambridge, his PhD at King's College London, and the UEA Prose Fiction MA, Greg now writes prose fiction, graphic novels, and video games. Greg was the writer of the critically acclaimed sci-fi narrative 30-hour expansion NO MAN'S SKY: ATLAS RISES, exhibited at the V&A's 2018 video game exhibition. Waypoint called parts of this story a "glimpse into the future of games" while GQ said it was the "most cohesive and intriguing tale that the game had delivered so far". In 2018, he was named in GamesIndustry.Biz's Top 100 list. In 2019, he was included in Forbes 30 Under 30. He has written over 20+ games across indie, AAA, mobile, VR, and more, in addition to acting as a voice director on games such as Divinity: Original Sin 2. He holds a PhD in ethics and identification in novels and games. Greg is represented by Sam Copeland of Rogers, Coleridge & White for prose fiction.
Greg Buchanan is speaking at the following session/s
Narrative Design for Alexa and Voice-Based Platforms
Tuesday 9th July:
15.00 - 15.45
:
Room 5
In this talk Greg Buchanan (writer of No Man's Sky: Atlas Rises and popular Alexa game The Vortex) will discuss best practices for successful narrative design and game writing on voice-based plaforms such as Amazon's Alexa and Google Assistant. These new platforms have huge untapped potential in their non-traditional gaming audiences, the manipulation of a user's voice as the primary control mechanism, and the ability to deploy platform-agnostic experiences. Greg will discuss the development of the existential drama-comedy space game 'The Vortex' as his primary case study, a voice-based title developed by Bioware and Bandai Namco veterans, and which was positively reviewed and featured extensively by Amazon to the platform's 100 million strong install base. Greg will communicate best practices for onboarding a narrative experience, using a mixture of computer-generated and voice actor performance for NPC characters, deploying microtransactions, and utilising timer mechanics as part of the narrative experience, all contextualised and contrasted with narrative design for other platforms new and old (console, mobile, AR, VR). The talk will end with a discussion of voice-based games as an evolving medium and their future potential.