Felicia Prehn
Nopia Oy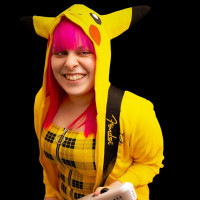 Felicia Prehn is an almost-completely blind game and animation producer based in Finland. She is an advocate for accessibility and inclusion of the disabled in the game development process, and is also a DJ and eurodance artist.
Felicia Prehn is speaking at the following session/s
Accessibility and the Importance of Including the Disabled in the Development Process
Tuesday 9th July:
11.00 - 11.45
:
Room 6
Accessibility and inclusion in games aren't trends, but rather a necessity in a world where hundreds of millions of people are disabled. But how can developers and companies find disabled gamers to help them in their work? Why is it important and what does any of this actually mean? Felicia Prehn will answer these important questions and more, as well as discuss her perspective as a blind woman working in the game industry.
Some blind and visually-impaired gamers have become jaded, but most of us are open, ready, and willing to lend advice
There are tons of small potential issues that will be overlooked or forgotten if your development team is only abled people
The internet is full of free, insightful resources and platforms that can help you navigate your journey into accessibility and inclusion!