Ella Romanos
Fundamentally Games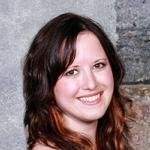 Ella began working in games in 2008, setting up her first game development studio as a graduate. Over the last decade Ella has founded three development studios, focusing on work for hire and development of own and licensed IP, with teams of up to 25 people. Since 2014, Ella has also been providing strategic support as a consultant to other developers and organisations. With her background in programming and user experience design, and her experience in production, fundraising and company strategy, Ella works with a broad variety of companies to assist with the development of games and the games industry. Ella regularly contributes to the UK games industry through her position on the UKIE board, regularly speaking at industry events and writing articles published by various games press. Over the last 5 years she has been awarded finalist in the 'Innovator Of The Year' category for Women In Technology Awards, named in Develop's 'Top 30 under 30', been a finalist in the TIGA Awards Leadership category and twice listed in MCV's UK Top 100 Women in Games including as a finalist in the 'Business Woman of the Year' category.
Ella Romanos is speaking at the following session/s
What Investors Really Look For
Thursday 11th July:
12.15 - 13.00
:
Room 3
How do investors really assess your pitch? What are they looking for, and what are they thinking? What is the internal review process that they go through to assess a project? There is lots of advice available about how to pitch, and what investors are looking for. However, if you could put yourselves in the shoes of the investors reviewing your pitch, you would have useful insight to help you improve what and how you present to them.
This talk will explain how investment funds assess companies and projects, from the point of view of the investor. By explaining how an investment fund's green light process works, from personal experience designing and implementing these processes, attendees will gain insight into how investors think and what they are looking for.
How to pitch to investors
What investors look for from game devs when pitching
Pitch Review
Thursday 11th July:
15.00 - 15.45
:
Room 1
Are you looking to raise investment and are working on your pitch? Is it in draft form, or maybe you've already shown some investors but would value some feedback. Following on from Ella Romanos' talk - 'What Investors Really Look For', this session will provide an opportunity for you to get honest direct feedback from a range of financers and funding experts, in small groups. With a range of experts from publishers to VCs, get feedback that helps you develop your pitch in the direction that you want. Expect honest and constructive feedback to help you improve your pitch and chances of raising funding, as well as an opportunity to meet the financers.
How to improve your pitch
What financers look for