David Braben
Frontier Developments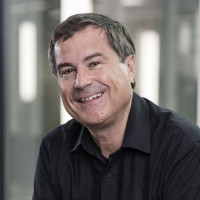 David Braben is the CEO of Frontier Developments and co-creator of the Elite series. From the launch of Elite in 1984, Braben has been an industry luminary across four decades of gaming. As CEO of Frontier he heads up one of the UK's largest independent game developers and publishers, overseeing the launch of award-winning titles such as Planet Coaster, Elite Dangerous and Jurassic World Evolution.
A co-founder and trustee of the Raspberry Pi Foundation, Braben was awarded with an OBE in 2014 for services to the UK computer and video games industry.
David Braben is speaking at the following session/s
25 Years of Frontier Developments with David Braben
Tuesday 9th July:
17.45 - 18.30
:
Room 2
Frontier Developments CEO David Braben joins Chris Dring for a fireside chat on 25 years of Frontier in the studio's 25th anniversary year. David charts a quarter century of games industry history via the path his studio has taken to its current success. Expect anecdotes, musings and sage advice from one the industry's premier figures.