Claire Baert
Think Crowd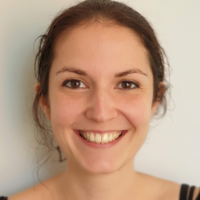 After 10 years in the video games industry, Claire decided to focus on games that help scientific research. In 2016, she launched her website, citscigames.com, she started writing about citizen science games, started giving talk and leading round tables to raise awareness about these games. She joined the Human Computation Institute and was working on Stall Catchers, a gamified citizen science project that speeds up Alzheimer's research. She recently started 'Think Crowd', a company dedicated to the production of games for science.
Claire Baert is speaking at the following session/s
Video Games to Tackle Today's Biggest Scientific Challenges
Tuesday 9th July:
14.00 - 14.45
:
Room 5
There is an increasing number of citizen science games. These games not only carry educational values, they also help solve various scientific problems, from finding ways to build a quantum computer to building diagnosis tool to detect dementia. In this talk, we will identify scientific problems that can be better solved by games, we will look a the different ways they can be integrated into existing games and we will review a few design challenges they pose.
Learn how games can be a powerful platform for science
How they can engage players in research
How they can help cure diseases
How they can solve today's biggest challenges.