Cinzia Musio
Splash Damage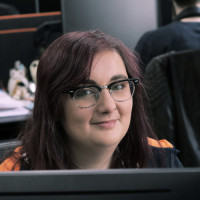 Cinzia Musio is an Operations Project Manager at London based video games studio, Splash Damage (Brink, Batman, Gears of War 4), where she drove the studio's GDPR compliance programme. Before joining Splash Damage she worked in financial services, implementing GDPR at MoneyGram and advising partners including Tesco and Royal Mail. Alongside her role in Live Ops Cinzia has a passion for training and development and currently sits on the Diversity Board at Splash Damage where she focuses on inclusivity training initiatives within the studio.
Cinzia Musio is speaking at the following session/s
Women in Games Roundtable
Wednesday 10th July:
11.00 - 11.45
:
Room 7
Cinzia will host a roundtable discussion on the experience of being a woman in games. Join us to talk about the impact of hiring more women, how to support women in their current work environment, and how to raise awareness in the workplace. We'll be discussing the journey so far for women in the games industry, and there will be some key takeaways for anyone tackling the challenges of diversity in their workplace. This roundtable is open to everyone!
The positives of hiring women, and what they bring to the table
Empowerement of women currently working in the industry
Motivate more women to get into the games industry