Christopher Knowles
Jagex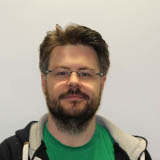 Chris joined Jagex in 2007, and now has a decade of experience of game engines and backend support modules. He has written everything from WebGL shaders to billing systems. He is currently a Senior Game Engine Developer working on RuneScape, an MMORPG running successfully since 2001, and Old School RuneScape, a throwback to RuneScape's 2007 era. He helped develop Old School for mobile, which launched in October 2018.
Christopher Knowles is speaking at the following session/s
MMObile: Bringing Old School RuneScape to Smartphones
Tuesday 9th July:
12.00 - 12.45
:
Room 6
A retrospective on the development of a fully-featured mobile client for Old School RuneScape (OSRS) allowing play with desktop users. The client launched on 30th October 2018, with 2 million downloads in the first week. RuneScape launched in 2001, so the primary challenge of the mobile port was dealing with a large, legacy codebase written without any consideration of mobile, and an equally large body of game content designed for desktop screens and input. OSRS is a reboot of the 2007 version of RuneScape, and is still entirely Java-based on desktop and uses a software renderer. A feasibility test in 2016 showed it could be made to run with a modified version of RuneScape 3's C++ hardware renderer. However, for production this required a substantial re-architecting of core areas of the client. Because it uses Java, running OSRS on Android was relatively straightforward. Rather than rewriting for iOS, we instead used Intel's Multi-OS Engine middleware. From here, the bulk of the engine work was graphical (dealing with a complete lack of alpha channel, an inability to scale interfaces, and chipset issues), interface-based (refactoring to allow touch support, and dealing with a lack of right-click in hardcoded interface systems), and fully supporting a mobile application life-cycle and onboarding flow. The OSRS content teams also completely reworked the game's interfaces for mobile, including spacing issues and touch-based UX. The session will also discuss the tooling built around the project, including the system developed to manage deploying branch builds to phones as needed.
A retrospective of OSRS Mobile, which brings the full game experience to phones and allows PC and mobile users to play side by side.