Chris Kingsley
Rebellion Developments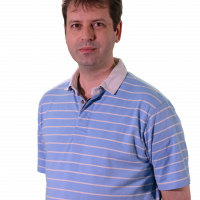 Chris Kingsley OBE is the CTO and Co-owner of Rebellion, one of Europe's largest independent game developers. Chris co-founded Rebellion with his brother Jason in 1992, the studio quickly making an immediate impact with seminal shooter Alien vs Predator. Today Rebellion continues to develop AAA video games based on their own IP including the thrilling World War 2 shooter, Sniper Elite 4, the cutting edge VR reboot of iconic arcade game Battlezone, and 1930s rip-roaring action-adventure Strange Brigade. In 2000 Rebellion became the owner of powerhouse UK sci-fi comic 2000AD, and Chris co-produced the 2012 film adaptation, Dredd 3D, and is now an executive producer on the Rogue Trooper movie and the Judge Dredd: Mega City One TV series currently in production. A highly influential figure in the UK game industry, Chris also helped found industry organisation TIGA, and was recently made an OBE in the Queen's New Year's Honours List.
Chris Kingsley is speaking at the following session/s
Keynote: Rebellion - The Path to Independence
Thursday 11th July:
10.00 - 11.00
:
Room 2
Jason Kingsley OBE and Chris Kingsley OBE are pioneers in the UK games industry. They've grown Rebellion into one of Europe's leading independent gaming studios over the last 26 years, and the studio continues to create standout games like Sniper Elite 4 and Strange Brigade. But Rebellion has evolved over the years. Now the company self-publishes its games worldwide, and it's also the home of 2000 AD, at the forefront of sci-fi and fantasy book publishing, and the owners of a newly opened $100m film studio in the heart of Oxfordshire. In this fireside chat, the Kingsley brothers will share their journey to becoming truly independent in the games industry, and how they grew from a work-for-hire studio into a company making and releasing its own creative content across a wide range of media.
Interview by Seth Barton, Editor of MCV