Chris Bain
Player One Consulting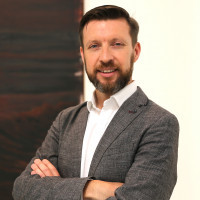 Building on a background of more than a decade of leadership at Xbox combined with extensive cross-industry consulting experience, Chris founded Player One Consulting in 2018 to deliver growth & profit to gaming companies through better strategy, planning & execution. Originally trained as a research scientist, Chris obtained a PhD before switching focus to the business world, working as a management consultant at Accenture. During this time, he advised numerous blue-chip companies on their business strategy as well as running the practical projects that helped them achieve their goals. Chris joined Microsoft in 2004 where he continued to focus on business transformation before being hired into the Xbox division as the EMEA Strategy & Insights Lead. His success in this role led to his becoming Xbox General Manager for Central & Eastern Europe – a region which he transformed into a global leader in revenue, market share & user engagement growth. Chris now spends his time working closely with leaders in the gaming industry to help them transform their companies' long-term commercial performance.
Chris Bain is speaking at the following session/s
Transforming for International Success: How Central & Eastern Europe Fell In Love With Xbox
Tuesday 9th July:
15.00 - 15.45
:
Room 2
Do gaming markets really vary so much by region? Can a business change to fit new markets, yet still be true to its identity? How can I take the opportunity to succeed in new international markets? These are some of the burning questions for those looking to expend their business to new markets. In this session, Chris answers these questions and more as he tells the story of how he and his team transformed the Xbox business in Central & Eastern Europe (CEE) over half a decade, to move it from a low-share, low-volume business that got "lost in the rounding" into a thriving market-leading business that set new standards with customers & partners alike. In doing so, Chris reveals how to reposition and adapt your gaming business' marketing & operations to meet the needs of new and varied markets. The session uses the learning & stories from Chris' time in CEE to dive deep into product strategy, localisation, marketing, partnerships and the how to deal with the various cultural & financial challenges faced by any business looking to grasp the opportunity of new markets.
A journey into how to effectively expand your games business across new countries based around the story of Xbox's success in CEE region.