Carlos Gonzalez Diaz
University of York and Goldsmiths University of London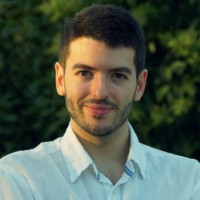 Carlos interest and passion for videogame development started by studying a BSc in Software Engineering at the Universidad Rey Juan Carlos (Madrid, Spain), where he learned from the talented VR and Haptic Research Group and developed his own VR fire arm training serious game. Following his education, he obtained an MSc in Serious Games at the University of Skövde (Skövde, Sweden), working together with the Swedish game company IUS Innovation for his MSc Thesis. He started a second MSc in Digital Narration: Game and Cultural Heritage at the same institution and worked in a Swedish interregional transmedia AR game project. He exhibited an art videogame with a focus on embodied interaction both in Sweden and Denmark; and participated in the vibrant Scandinavian game development scene, prototyping games and working with great people from all over the world at several game jams and hackathons. Now, Carlos pursues his ambition of improving the next generation of games R&D at the leading Intelligent Games and Games Intelligence (IGGI) Centre for Doctoral Training across 4 UK universities (http://www.iggi.org.uk/). His work led him to collaborate with Sony Interactive Entertainment R&D West division during his PhD, and to participate in the development of a Google-funded interactive machine learning project together with experts from Goldsmiths, University of London.
Carlos Gonzalez Diaz is speaking at the following session/s
Interactive Machine Learning for Game Controls Customisation and More Expressive Interactions
Wednesday 10th July:
15.00 - 15.45
:
Room 4
In this session I'll share some of the findings of my research in how machine learning can be applied in games and how this can heighten positive aspects in the player-computer interaction. There is an increasing trend of incorporating a diverse variety of sensors into videogame systems, ranging from game controllers to current VR/AR kits, yet there are no standard practices how to design sensor-based control schemes. Interactive machine learning (IML) is a novel interaction paradigm that involves users to iteratively build machine learning models. IML has been successfully used to allow designers and end users to fine-tune or even design wholly personal control schemes for interactive music and other applications. Could these techniques be used in games development? The research and technology presented in this session explores how using interactive machine learning in the design of sensor-based control schemes of digital games can improve the player experience and how simple it can be to use. This technology can be used to quickly prototype controls by directly showing human actions and computer responses without writing code! Players or designers may use interactive machine learning to design enjoyable control schemes for themselves and create unexpected playful interactions. I will run through specific tools and examples with Unity 3D that we researched and developed with the help of a Google grant and presented at the GDC 2019 AI track. No matter your background, all code and examples will be open sourced for you to explore after the session!
Cutting-edge research in AI assisted game development
How machine learning can be applied in creative scenarios and videogames
Understanding the "machine learning pipeline" in game development