Cari Watterton
Puny Astronaut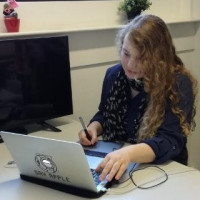 A Graduate from Abertay University's Computer Arts course. While studying she successfully funded her Honours year project using a Kickstarter campaign. BAFTA Games nominee for "Pentagrab!" - a runner up in Dare to be Digital 2016 and winner of the Audience Award. Participant in Dare Academy 2018 with "Sketchtown Showdown" which exhibited at EGX 2018. Employed as a Graphic Designer for three years alongside her studies. Formerly an artist at 4J Studios (Minecraft: Console Edition) and currently employed as a UI/UX Artist at Puny Astronaut (Skye).
Cari Watterton is speaking at the following session/s
Successful Crowdfunding: A Kickstarter Post-Mortem
Tuesday 9th July:
11.00 - 11.45
:
Room 2
If you've ever wanted to take the leap into crowdfunding, this talk is for you. Cari single-handedly ran a successful Kickstarter campaign to fund her Honours Project. By the time it ended she had reached over 200% funded. This is a post-mortem of her campaign and an overview of what she learned, good and bad. She gives practical advice on how to plan and fund your campaign in a way that's easy to follow and great for people new to Crowdfunding.
Get practical advice on running a solo crowdfunding campaign regardless of where you are in this Kickstarter post-mortem.