Alvaro Barúa
ZeroLight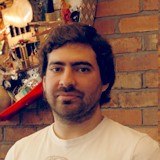 A specialist in tools and graphics programming with a BSc in Computer Sciences and an MSc in Computer Games Engineering, Alvaro plays a key role in ZeroLight's core tech team. His work enables ZeroLight to build its ground-breaking retail experiences and drive innovation in a range of cutting-edge development projects like the foveated rendering VR and human-eye resolution VR concepts shown at CES and GTC this year.
Alvaro Barúa is speaking at the following session/s
Next Gen VR - What Developers Need to Know
Wednesday 10th July:
17.00 - 17.45
:
Room 2
In the world of automotive visualisation, we create some of the highest detailed real-time graphics ever seen. This realism is extremely important in VR, to immerse the user in a believable virtual world. The greatest limitation so far has been the hardware - in this session we will be covering details of the next generation headsets and the optimisations that can be used to achieve high quality visuals and great performance.
Find out how ZeroLight optimise next-gen VR to achieve great performance for automotive experiences with wider FOVs and higher resolutions.