Allan Plenderleith
Square Sausage Games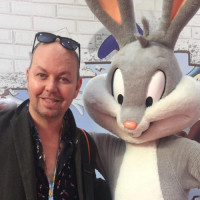 Creator, Writer and Director of the world's first feature length interactive zombie movie, THE HUNTING. Creator, Writer and Director of BAFTA-nominated THE BUNKER, a multi-platform period adventure shot in a real life nuclear bunker. Creator and Writer of over 25 apps. Creator, Writer and Director of new interactive live-action title GAMER GIRL (in development).
Allan Plenderleith is speaking at the following session/s
The Rise of Live Action Video Games
Thursday 11th July:
15.00 - 15.45
:
Room 2
With Black Mirror's Bandersnatch capturing the reaching a massive global audience, the rise of 'FMV' as it was once known, continues. But what's involved in creating a live action video game, and exactly how interactive can they be? Allan Plenderleith, creator of the world's first full length interactive zombie game THE HUNTING and BAFTA-nominated multi-platform title THE BUNKER, explains the unique and sometimes painful process of making a game using real actors in real locations. During the session we will look at how FMV has evolved over the years, from the early days of CD-ROM titles, to the current wave of higher production value (and higher acting quality) titles. We will also explore the benefits and disadvantages of filming 'assets' using real life actors, the cost implications, the production challenges, and the technological challenges involved in getting seamless transitions between shots.
Discover how to make a game using live action footage
Find out the challenges of interactivity using film footage
Learn about storytelling principles in the world of FMV