Alistair Aitcheson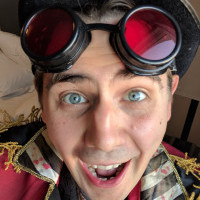 Alistair Aitcheson is an indie developer who specialises in playful installations, custom-made game hardware, and interactive performances. He sees his games as a springboard for human interaction, encouraging players to bend rules and make the technology their own.
Running an independent games studio since 2010, he cut his professional teeth in mobile games. He has created games that are now installed in museums in both the UK and Germany, and was nominated for the Alt.Ctrl.GDC award for The Book Ritual: a game controlled using a paper shredder and real books.
Alistair's playable comedy show has been performed across the UK, Europe and the USA. His work has been nominated for awards at A MAZE 2016 in Berlin, and won awards at the IndieCade Festival in 2015 and 2017.
Alistair Aitcheson is speaking at the following session/s
Final Fun Session - The Incredible Playable Show
Thursday 11th July:
17.15 - 18.00
:
Room 4
Winner of the 2017 IndieCade Jury Choice Award, The Incredible Playable Show is an interactive video game comedy show where you, the audience, take to the stage!
A selection of unique games, played with unusual controllers, will get audience members up out of their seats and running around the room. Become human buttons, take on the Power Rangers, zap each other with barcode scanners, and play Pac-Man using inflatable toys. Or sit back, and watch your friends literally become cogs in a hilarious machine!
Everyone welcome - you don't need a conference pass to attend this session and there will be free beer!