Aj Grand Scrutton
Dlala Studios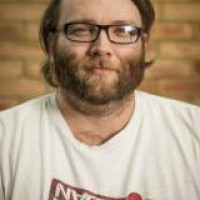 Previously a programmer at award-winning studios Jagex and Bossa Studios. In 2012 Aj, along with then-partner in crime Craig Thomas, left their roles at Bossa Studios to start independent studio Dlala Studios...from their parents' garage. Nearly 6 years later and Dlala have worked with the likes of Microsoft, Rare, Disney, USC ICT, Team 17 and more. Having created their own IP, supported the IP of others and create training games for US government organisations. Aj was a programmer who wanted to be a designer, who became a company director and had to learn all the business crap that comes with it!
Aj Grand Scrutton is speaking at the following session/s
Show Them the Money: An Agents & Developers Q&A
Wednesday 10th July:
12.00 - 12.45
:
Room 6
Longtime agent Joel Benton with UK developer AJ Grand Scrutton to do some real talk about the benefits and potential pitfalls of having an agent. This chat will cover the trends that have altered our business over the last decade and how future trends will alter our industry. These two will then open up the floor for a real-time question and answer to field questions from developers who are struggling to make it in this current climate.