Anna Morris-Peters
Strange Mirror Studios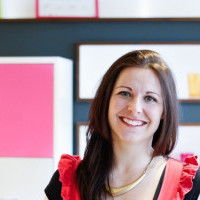 Anna Morris-Peters is passionate about delivering cutting-edge design that brings measurable improvement to users and businesses. In addition to UX design and product management she has in-depth knowledge of creating and managing successful teams, so provides an informed approach to production and solutions architecture. She's also well into books and doggos and wishes she had hundreds of both.
Anna Morris-Peters is speaking at the following session/s
Mental Health Roundtable
Wednesday 10th July:
14.00 - 14.45
:
Room 7
Playing games is awesome! Making games is awesome! So, if all we do with our days is make and play games, we should be really happy all the time, right? Right?! Unfortunately, there's no magic wand for great mental health and, despite working in the amazing industry we do, we all have to face personal challenges along the way. So, how can we foster an environment of sharing to combat isolation? How can our line managers/coaches help? And how can we introduce variety into our lives to minimise happiness dependence on work? In this session, you'll hear from others about strategies they've used to improve their wellbeing and be invited to share your own (there is no obligation to do so!).