Thomas Buijtenweg
Academy of Digital Entertainment at NHTV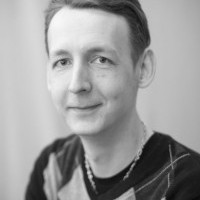 Thomas Buijtenweg is games developer and researcher for the Academy of Digital Entertainment at NHTV: Breda University of Applied Sciences. After decades of running role-playing sessions, he moved into digital development seven years ago and was an IGF Student Finalist in 2013 with 'Atum'. Since then he has worked on multiple commercial and research games projects in the entertainment and applied games sectors. His focus is on player personality profiling and the impact of mechanics systems integration on player experiences.
Thomas Buijtenweg is speaking at the following session/s
Putting Your Borg Hat On: A Procedural Approach to Game Design
Thursday 12th July:
11.15 - 12.00
:
Room 2
How does a designer know that an idea is going to work? Our ideas are always going to be coloured by personal biases, which can help or hinder our concepts. In this talk, Thomas and Mata discuss the limits of human creativity and how a generative method can help us overcome our biases. The talk contains a practical example of game concept generation through simple tools that are available to all. These generative approaches won't replace human skills of imagination and artistic expression, but they will have an impact on the future of game design roles. By embracing them now, we can learn to use them to enhance our games and stay competitive in our skill sets.
Takeaway:
Game designers will assimilate a practical technique, including simple tools, for creating new game designs through procedural concept development.
Design Workshop: Advanced Paper Prototyping
Wednesday 11th July:
16.00 - 17.45
:
Room 6
In this 2 hour workshop, attendees will make a paper prototype of an action-based combat game. After a short introduction, they will develop their own twist on an urban zombie shooter. Their prototype will allow them to balance movement and combat rule-sets, as well as gain insight into potential AI behaviours and weapon systems, all without a single line of code. Ideas will be shared for prototyping time-sensitive reactions, tracking statistics, and other fast methods of finding the fun in a concept.

Takeaway:
Game designers will learn practical methods for rapid prototyping of game systems. These will help you improve your designs, and increase your ability to communicate them to your team.