Stephen Baysted
Composer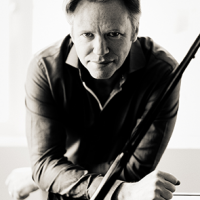 Award-winning British Film, TV and Video Game composer Stephen Baysted is well known for his versatility and for his emotionally charged and expressively powerful music. Stephen's acclaimed music scores have been enjoyed by viewers and players worldwide in a succession of award-winning Films, TV programmes and computer games.

Recent game scores include the number one bestselling racing titles: Project Cars and Project Cars 2; Electronic Arts: Need for Speed Shift 2: Unleashed and Need for Speed: Shift; Atari's Test Drive: Ferrari Racing Legends; and Robert Kirkman's: The Walking Dead: Assault.

Stephen's recent scores for film include I, Claude Monet, Renoir: Revered and Reviled, The Impressionists and the RTS-winning Matisse Live at the Tate and MoMA with director Phil Grabsky; the cult surrealist psychological drama Strange Factories; and Tim Pope's Brandy and Pep.

For television, Stephen has composed two seasons of Blink Film's epic documentary series Ancient Mysteries for Channel 5, Smithsonian and SBS Australia; Prehistoric Megabeasts: Giant Croc vs Super Snake for Channel 4 and WNET; Blink Film's three-part natural history series Volatile Earth for Channel 4; Shark-Croc Showdown for Discovery Channel; and a six-part series for BBC2 with 2 Michelin star chef Tom Kerridge: Lose Weight for Good.

He has also composed the music for cinema, television and radio advertisements, including high profile campaigns for Budweiser, McDonalds, Pizza Hut and Samsung and writes for many leading music libraries.

Stephen's work has been nominated for three prestigious Jerry Goldsmith Awards for best score, two Motion Picture Sound Editors 'Golden Reel' Awards for best audio in a game, a Golden Joystick Award for best audio and music in a game, and two Game Audio Network Guild Awards for best audio in a game.

Born in London, his passion for music began during his school years singing, touring and recording with the internationally acclaimed Wandsworth School Boys Choir and playing clarinet in the London Schools' Symphony Orchestra. Stephen went on to study music at Southampton University and at Dartington College of Arts, where he was awarded a PhD in 2003.
Stephen Baysted is speaking at the following session/s