Mitu Khandaker
Spirit AI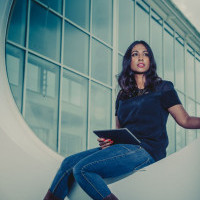 Mitu Khandaker is Chief Creative Officer at Spirit AI, as well as an Assistant Arts Professor of Game Design at the NYU Game Center and an independent game developer. At Spirit AI, her work involves helping developers create rich autonomous characters & procedural narratives through expressive AI -- but also using AI to mitigate online harassment in multiplayer and social VR games. In addition to social simulation, her interests include the aesthetics of interactivity and its relationship to critical play. She also works toencourage diversity in game development and STEAM fields, and is a member of a number of advocacy organizations in the games and tech space.
Mitu Khandaker is speaking at the following session/s
AI In Your Pocket: Character-Based Conversational Sims
Thursday 12th July:
11.15 - 12.00
:
Room 4
While the rise of conversational interfaces has seen us welcome Alexa and and Siri into our homes and fueled the conversation about AI, we've made fewer strides when it comes to having satisfying conversations with game characters. Yet character-driven mobile games like Bury Me, My Love show the way forward for pervasive narrative games, while simultaneously, 'chatbot games' are emerging, such as event[0] with its natural language input. What do advances in AI mean for the ways in which we design interactions and conversations with game characters, and what are the new possibilities for game design: particularly when we are telling ongoing, pervasive stories? This talk surveys existing games and tools and the best practices these indicate for the future of social simulation and AI-driven characters in games.
Takeaway:
Attendees will learn about game design possibilities leveraging AI tools and techniques, and considerations when designing social simulation games featuring conversational characters.