Lizi Attwood
Furious Bee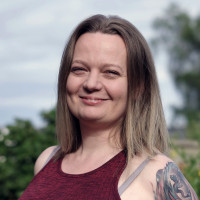 As technical director at Furious Bee and since co-founding the company I've helped teams of all sizes, from 1 to many, build their games. I've worked in the industry for over 15 years and in that time contributed towards a lot of games including console games, PC games and mobile games in areas as diverse as Gameplay, Networking, Physics, Graphics and Presentation.
Lizi Attwood is speaking at the following session/s
Coding Pro-Tips for Non-Coders
Tuesday 10th July:
15.00 - 15.45
:
Room 2
Calling all self taught coders, I can help you! I've worked with all kinds of developers, at all stages of their projects and this is a collection of pro tips using real world examples to help everyone to build better, more maintainable software.
Takeaway:
Breaking down the initial design into very small components - leave room to grow
When to change things - when it works then maybe just leave it
Using tools to remove manual steps to improve speed of repetitive tasks and reduce mistakes
Drawing diagrams to plan systems and execution flow before a single line of code is written
Commenting or functioning first to flesh out algorithms before implementing them