Kenny Young
freelance audio director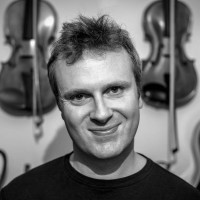 Kenny is a 6x academy (BAFTA, AIAS) nominated freelance audio director, composer and sound designer, best known for his work as the brains behind the celebrated audio experiences in Media Molecule's 'LittleBigPlanet' and 'Tearaway' franchises. Recent work includes audio design for Foamsword Games' successfully crowd-funded 'Knights And Bikes' and the GANG-nominated scores to Glowmade's 'WonderWorlds' and Secret Sorcery's 'Tethered'.
A passionate and committed member of the game audio community, Kenny helps put together the audio track at GDC, speaks regularly at conferences and higher education institutions around the world, has assisted in judging BAFTA, GANG and IGF award categories, is a multi-award winning writer who has contributed towards many books and articles, runs the blog gamesound.org as a resource for those who wish to learn more about interactive audio, and was a founding member of the Audio Mentoring Project. He holds an MA with distinction in sound design from Bournemouth University and a BMus with honors in music technology from the University of Edinburgh.
Kenny Young is speaking at the following session/s
Audio Track Welcome & Introduction
Thursday 12th July:
10.00 - 10.15
:
Room 6
Audio track curator and chair, John Broomhall, welcomes delegates and guests and introduces the day's proceedings.