Kate Edwards
Geogrify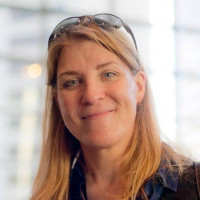 Kate Edwards is the CEO and principal consultant of Geogrify, a consultancy for content culturalization, the Executive Director of Take This, and is the former Executive Director of the International Game Developers Association (IGDA). In addition to being an outspoken advocate that serves in several advisory/board roles, she is a geographer, writer, and corporate strategist. Formerly as Microsoft's first Geopolitical Strategist in the Geopolitical Strategy team she created and managed, Kate protected the company against political and cultural content risks across all products and locales. Since Microsoft, she has assisted many clients on a variety of geopolitical and cultural issues across many products and game franchises. Kate is also a columnist for MultiLingual Computing magazine. In October 2013, Fortune magazine named her as one of the "10 most powerful women" in the game industry and in December 2014 she was named by GamesIndustry.biz as one of their six People of the Year.
Kate Edwards is speaking at the following session/s
Why Mental Health Matters in Our Creative Lives
Tuesday 10th July:
12.00 - 12.45
:
Room 7
Mental health is just as critical as our physical health to our well-being as creative professionals, and yet a heavy stigma exists that continues to make people reluctant to openly discuss and address. The silence around the issue is deafening, and further compounds the negative perception. This session aims to have an honest and confidential discussion about mental health in the game industry, how it affects our craft, and what forms of support are available (or not!). In this session, you'll be invited to share your own experiences with others (only if you're willing and able - no one will be asked to do so) and talk about strategies for improving support, plus find out what changes some studios have introduced.