Jordi Sola
Ziggy's Wish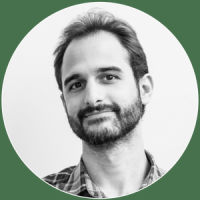 Jordi Sola Jordi is CTO of Ziggy's Wish Applied Narrative Agency, also Co-founder and CEO of Cubus Games in Barcelona, responsible for a number of diverse digital titles including the Pocket Gamer award-winners Heavy Metal Thunder, Sol Invictus, The Frankenstein Wars, Necklace of Skulls and Deadman Diaries; with Heavy Metal Thunder and The Frankenstein Wars both being featured by Apple. Jordi is interested in technical development innovations around user-decision-led narrative across large storyworlds; with a focus on mainstream player expectations versus accessibility for non-mainstream and underrepresented gaming audiences. He is passionate about community and, following Cubus' first-prize win at the inaugural Agbar Museum's HackatH2On on digital engagement in the museum and cultural sector, advises Barcelona Diputation, Mallorca Council and multiple Cultural Heritage management entities around historical/public adaptation projects across Spain.
Jordi Sola is speaking at the following session/s
Fostering an Inclusive Mindset for the Future of Games Development
Thursday 12th July:
15.00 - 15.45
:
Room 2
As the games industry seeks to encourage and exploit new player populations in order to actively expand its user base, the pressure on the games industry to ensure its work is socially responsible will grow exponentially. Not only are equality, inclusion and diversity key to growing an audience, they are also key to user wellbeing: a topic that will come increasingly under scrutiny as technologies that the games industry is very publicly exploring and utilising, such as artificial intelligence and extended realities, push further into people's everyday lives. This talk, delivered jointly by Ziggy's Wish MD Ravi Thornton and CTO Jordi Sola, is designed to help foster a responsible, adaptive mindset for the games developers of the future; to make sure they start thinking about tomorrow's questions today, rather than playing catch up in the face of potential criticism further down the line. Ziggy's Wish specialises in creating Applied Narratives and Applied Narrative Technology tools for scientific research projects focused on intersectional social impact. Using case studies that discuss the challenges around user vulnerability and resilience, as well tangible methods to evidence social responsibility, this session will leave games developers better prepared to ensure that their industry not only embraces and supports the important and growing trend for new voices to be heard, but also drives its continued momentum.