James Hannigan
Composer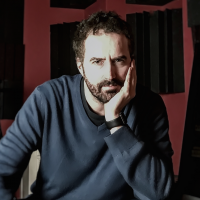 BAFTA and IFMCA award-winner James Hannigan is a versatile composer focused on the emotional directness and personal nature of his music. His credits include entries in the Harry Potter, The Lord of the Rings and EA Sports series'; titles such as Dead Space 3, RuneScape, Command & Conquer: Red Alert 3, Terraria Otherworld, Cloudy With a Chance of Meatballs and Space Hulk; television and radio such as BBC America's Primeval, Neverwhere and Amazon/Audible's Alien trilogy, and many others. A five-time BAFTA Award nominee for Original Music, James innovated interactive music composition early in his career for Theme Park World, Republic: The Revolution and Evil Genius, and provided some of the industry's earliest 'cinematic' game scores for titles such as Conquest: Frontier Wars, Privateer: The Darkening and Digital Anvil's Freelancer. A regular interviewee and contributor for the BBC, Classic FM and others, James penned Develop magazine's first ever audio-related cover feature and is co-founder of Game Music Connect and the forthcoming Screen Music Connect.
James Hannigan is speaking at the following session/s
Challenging Videogame Music Tropes
Thursday 12th July:
14.00 - 14.45
:
Room 6
Multi bafta-nominated composers Olivier Derivière (Get Even, Remember Me, Assassins Creed IV: Black Flag – Freedom Cry) and James Hannigan (Red Alert 3, Dead Space 3, Harry Potter) discuss the state-of-the-art in music for videogames.
The early days of videogame music promised much - a new form of music – perhaps even a new art form. Integrating music composition deeply with gameplay was an exciting new world of creative opportunity. So where did all the truly inventive ideas go? Is linear music plus a few standardised interactive techniques overlaid really the zenith of game music design?
Game Music Connect co-founder, James Hannigan, was an acclaimed early innovator and proselytizer of interactive music composition whose extraordinary journey from the nascent days of highly flexible midi music to unbridled 'quad-A' linear orchestral scores furnishes him with a unique, historic and thoughtful perspective on the role, function and placement of music in games.
Meanwhile, creating music for Get Even provided radical composer Olivier Derivière an apparently highly rare opportunity for a deep and early involvement with developer The Farm 51. They trusted him to realise a unique vision for an intricate integration of music and sound design from the get-go which led to a recent Bafta nomination. But with the proliferation of today's middleware tools why is such an approach so rare?