Hayley Brant
Rocksteady Studios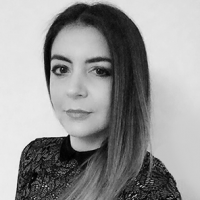 Previously a graphic designer working in print, Hayley moved over to games 12 years ago as a UI/UX Artist working on console and mobile titles for Sega, Ubisoft, Ninja Theory, EA, 2K and Rare. She had a 3 year stint working on apps for Microsoft, UEFA, ITV, BBC, Adidas, HSBC and Channel 4 before returning to games in 2016 joining Rocksteady. When she's not working, she likes to take photos, create abstract art and make 80's inspired synth music.
Hayley Brant is speaking at the following session/s
Putting Text into Boxes: Why UI Art is Important, and How to Use It
Tuesday 10th July:
14.00 - 14.45
:
Room 5
An origin story of the UI artist in video games. Simon and Hayley will discuss their different career paths into the games industry and how the impact, responsibilities and perceptions of the role have evolved over time. Both will explore practical examples of UI problems they from previous projects, including Batman: Arkham Knight. The historical context will be established and then illustrated with personal experiences, professional tips and amusing anecdotes. From creating simple interfaces to over-the-top animated compositions, assisting in the creation of in-house UI tools, comprehending coder art and serviette designs, and seeing UX become a discipline in its own right.
Takeaway:
Discover how the role of the UI artist has changed over the yearsDiscover the different career paths available to UI Artists
Professional Tips for producing problem solving art work