Grace Carroll
Creative Assembly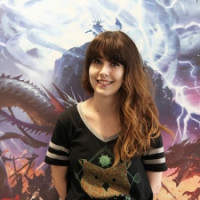 Grace oversees the social media channels for Creative Assembly's 18-year-old award-winning franchise, Total War. She's been working in the industry for the last 3 years and was recently named as MCV's 30 Under 30 and was a finalist in the 2017 Women in Game Awards. She works to promote the Total War: WARHAMMER series as well as the historical titles, cultivating a strong community tone of voice and drawing on strategic engagement through her love of puns and memes.
Grace Carroll is speaking at the following session/s
You Shall Not Pass: Dealing with Social Media Trolls
Wednesday 11th July:
16.00 - 16.45
:
Room 7
This discussion will provide a forum for you to talk about best practice when dealing with trolls – learn how to engage professionally and stay in control of your message online. Plus, share war stories and experiences – good or bad - with other developers to avoid costly mistakes and improve your community management.