Ella Romanos
Fundamentally Games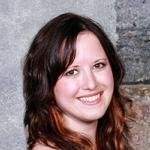 Ella began working in games in 2008, setting up her first game development studio as a graduate. Over the last decade Ella has founded three development studios, focusing on work for hire and development of own and licensed IP, with teams of up to 25 people. Since 2014, Ella has also been providing strategic support as a consultant to other developers and organisations. With her background in programming and user experience design, and her experience in production, fundraising and company strategy, Ella works with a broad variety of companies to assist with the development of games and the games industry. Ella regularly contributes to the UK games industry through her position on the UKIE board, regularly speaking at industry events and writing articles published by various games press. Over the last 5 years she has been awarded finalist in the 'Innovator Of The Year' category for Women In Technology Awards, named in Develop's 'Top 30 under 30', been a finalist in the TIGA Awards Leadership category and twice listed in MCV's UK Top 100 Women in Games including as a finalist in the 'Business Woman of the Year' category.
Ella Romanos is speaking at the following session/s
Live Ops: What is it and How to Implement it in Your Game
Thursday 12th July:
11.15 - 12.00
:
Room 3
This session will cover the the 6 key areas that are required for any Live Ops game - events, promotions, new content, new features, community management and problem management. As well as an overview of what each area should include, the session will give insight into how to implement these within your game and your team, what tools and processes you should be using, and how to plan ahead to make the transition to live ops, and scaling of your game, as efficient as possible.
Takeaway:
An understanding of what Live Ops entails
How to implement your game to support Live Ops
How to plan your Live Ops project schedule, and how to transition from development to live ops
The skills required within your team for Live Ops