Bill Harms
Hangar 13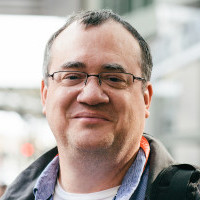 Bill Harms, Narrative Director at Hangar 13 and Lead Writer of Mafia III's award-winning story. Previously Bill was credited as the writer of the first Infamous as well as a number of comic books and graphic novels, something he remains actively engaged with today.
Bill Harms is speaking at the following session/s
Creating the Characters of Mafia III
Thursday 12th July:
14.00 - 14.45
:
Room 4
Join Bill Harms, Narrative Director at Hangar 13, for a discussion and presentation on how he and the team at Hangar 13 created the primary characters in Mafia III, including their motivations and political beliefs, with never-before-seen deleted scenes from the game and casting footage. The discussion will also cover how the characters evolved during development and how elements outside of narrative, including design and the actors themselves, helped shape what you see in the game.