Alessia Nigretti
Unity Technologies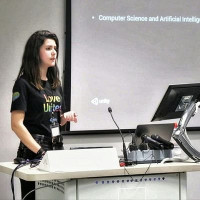 Alessia is a Technical Evangelist at Unity. She started developing small games at game jams and hackathons, and she joined Unity in 2017 to develop and demonstrate feature projects and share tips about Unity at conferences and meet-ups around the world. As a gamer, she is passionate about immersive story-based adventures and anything experimental.
Alessia Nigretti is speaking at the following session
Enhancing Your game's AI using Unity Machine Learning Agents
The session focuses on the implementation of the Unity Machine Learning Agents API (introduced in 2017 and continuously updated ever since) into an existing game or project. The talk includes an introduction to Machine Learning and it is open to all developers. No prior knowledge is required. Alessia will cover how this is approached by Unity and what the best tips and tricks are to get up to speed with it. You will be introduced to some examples of small projects produced by the Machine Learning team at Unity, and then look at a feature demo breakdown to see how this is done in-engine. The session aims to give an intermediate understanding of Reinforcement Learning and of the workflow of Neural Network training based on a Unity environment.