Aj Grand Scrutton
Dlala Studios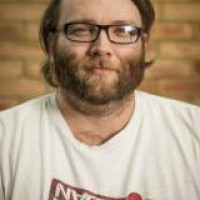 Previously a programmer at award-winning studios Jagex and Bossa Studios. In 2012 Aj, along with then-partner in crime Craig Thomas, left their roles at Bossa Studios to start independent studio Dlala Studios...from their parents' garage. Nearly 6 years later and Dlala have worked with the likes of Microsoft, Rare, Disney, USC ICT, Team 17 and more. Having created their own IP, supported the IP of others and create training games for US government organisations. Aj was a programmer who wanted to be a designer, who became a company director and had to learn all the business crap that comes with it!
Aj Grand Scrutton is speaking at the following session/s
What To Do When That One Big Deal Doesn't Turn Into The Next Big Deal
Tuesday 10th July:
12.00 - 12.45
:
Room 2
Aj will discuss life before, during and after signing the "contract of a lifetime". The ego driven rose tinted glasses that can cause you, and your team, danger. Scaling up for a contract and then maintaining that some number of staff when the contract is pulled from under you. This will cover managing budgets, remote workers, non-remote workers, overseas publishers, someone else's IP, contracts, a trip to Disneyland, a trip to another Disneyland, spending more money on "exploration" than you ever have on a game, that game being cancelled and everything that falls in between! How 5 guys in a garage got a multi-million dollar deal, turned into 14 people in a studio and then had that deal killed.
What the Crunch?
Wednesday 11th July:
14.00 - 14.45
:
Room 7
Large teams, small teams, global teams – there are so many different ways that studios are organised these days. And, the world has changed enabling teams to work remotely around the clock in London and Singapore on the same project. We'd all like to see crunch time becoming a thing of the past, so this roundtable discussion will dive into different company cultures and explore new ideas for killing crunch without killing your studio's soul.