Charles Cecil
Revolution Games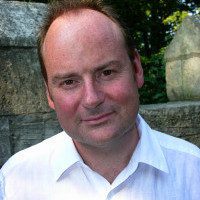 Charles Cecil MBE has been a key figure in the interactive entertainment industry for 40 years. Founder & CEO of Revolution Software, today one of the world's leading adventure game companies, Charles has created numerous narrative-driven games including the multi-million selling Broken Sword series and Beneath a Steel Sky: the sequel, Beyond a Steel Sky, due for release in late 2019 is a lead title for Apple Arcade. Charles has worked on titles as diverse as The Da Vinci Code for Sony Pictures and Doctor Who for the BBC for which he won a BAFTA award. Charles, awarded the status of 'Industry Legend' by Develop (Europe's leading development magazine) is on the Board of Governors of Screen Yorkshire, the regional agency that supports film, television and interactive entertainment in Yorkshire. In 2011 Charles was awarded an MBE (Member of the Order of the British Empire) for services to the computer games industry, and in 2019 was awarded an honorary Doctorate by the University of York. Charles has a particular interest in the narrative and aesthetic aspects of Interactive Narrative and how this medium will develop with advancing technology. Charles regularly talks at national and international conferences and to mainstream press about creative and commercial aspects of the video games industry.
Charles Cecil is speaking at the following session/s
Reinventing the Sequel to 'Beneath a Steel' Sky' for a Modern Audience
Monday 2nd November:
11.00 - 11.30
Industry Legend Charles Cecil discusses the opportunities, as well as the challenges, of reinventing a classic adventure franchise. In designing 'Beyond a Steel' Sky' the team set out to appeal both to the original fans of 'Beneath a Steel Sky' as well as a new generation of gamers. Charles will talk about how his team identified the core values of the original, and how they developed gameplay, narrative, and technical elements that respected the original, as well as delivering a cutting-edge modern adventure: the result is a game set in a unique world, populated by wilful characters driven by advanced AI, that responds to – and is subverted by – the player's actions. In collaboration once again with Dave Gibbons, co-creator and artist behind the comic book 'Watchmen', 'Beyond a Steel Sky' evolves and redefines the adventure genre for Apple Arcade, PC and console.
Takeaway:
Reinventing a classic adventure game that delights an existing community whilst appealing to a new, contemporary generation
Revolution's take on evolving and redefining the adventure genre
Bringing a console-quality adventure game to Apple Arcade