Posted: 15th June 2022
Develop is one of those events that really brings the UK games industry together. I look forward to my yearly trip to Brighton and have really missed it over the last few years, having been (pre covid!) every year since 2008.

These are my top tips for making the most of the event if you're there to pitch your game or your business.
Do your research
Whilst Develop has a meet2match system for meetings, many people attend and have meetings outside of the system, so you can't rely on that as your only source for knowing who is attending. A lot of the UK games industry attends Develop, so think about who in the UK would be good to meet – developers, publishers, financiers, service providers etc, and reach out to them directly. Be willing to say hello to people in the Metropol lobby and bar area (or even outside if it's warm enough). Often, you'll find people who are waiting for their next meeting - but be respectful if they are busy or their meeting turns up!
Leave time for networking
Develop is one of my favourite events for catching up with and meeting new industry colleagues and friends. Leave time to hang out in the Hilton bar, the lobby, outside, the expo area, and the various networking events over the 3 days. Keep an eye on the evening and lunch time events, there are fringe events organised alongside Develop too – check out in particular the SpecialEffect party on the Thursday evening, and the GI.biz party on the Wednesday evening, you will need to get tickets for both in advance.
Get your elevator pitch ready
You're going to meet a lot of people, and you're going to need to explain what you do, and what you're working on, a lot. So, make sure you are ready to explain it concisely and clearly, and know what your key points are. Have your pitch deck, and maybe your game ready to check out in meetings, or if someone asked for more info.
LinkedIn is your friend
From finding out what someone who you're going to meet looks like, to connecting with new contacts, or finding out about someone you just met, LinkedIn is a useful companion at any games event but particularly one where meetings are informal and often impromptu! And don't forget your business cards…
Know what your goals are
Your goal might be to just catch up with people, it might be to get feedback on an idea or a pitch you're working on, to find out what potential future partners are looking for, or you might be ready with your pitch and out to meet a publisher or financier to support your game – be clear what your goals are so you can measure success and can focus your time effectively.
For us, we're a publisher of living games, so we're attending to meet developers who are looking for a publishing partner, so reach out via www.fundamentally.games or [email protected] to setup a meeting.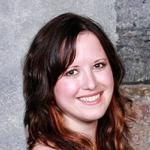 Ella Romanos is founder of Fundamentally Games and on the Advisory Board for Develop:Brighton.